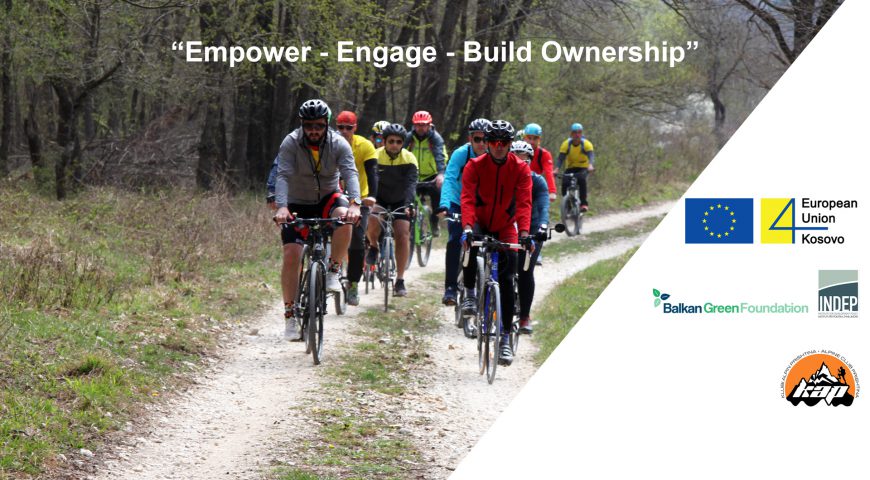 Safe cycling in Pristina
Dear cyclists,
We inform you that the Alpine Club of Prishtina's Cycling Section has begun implementing a project: "Safe Cycling in Pristina" whose aim is to raise awareness and promote society towards the use of sustainable transport and environmentally friendly: bicycles.
The project is part of the "Empower – Engage – Build Ownership project ", funded by European Union funds, managed by the EU Office in Kosovo, and implemented by the Balkan Green Foundation and Institute for Development Policy – INDEP, while project activities include range of actions in the context of awareness, safety enhancement and improvement of infrastructure conditions for cyclists of all categories.
Financed by:
European Union funds
Managed by:
EU Office in Kosovo, European Union Kosovo
Implemented by:
Balkan Green Foundation BGF
Institute for Development Policy INDEP
Project Owner:
Klubi Alpin Prishtina
Project Manager:  Urtina Mehmeti
Project Implementation Team:  Atdhe Gani Sylaj, Berat Rakovica, Arlind Demaj dhe Vera Nika
Supporters:
Marakli t'Biciklave
Bike Friendly Café & Shop powered by Supercyclists
Kosovo Police
Municipality of Prishtina
Directorate of Public Services, Protection and Rescue
Directorate of Administration
Directorate of Sport
Directory of Urbanism
Directorate of Parks
Board of K.A.P. wishes the project implementation team success and success.